About and How to Navigate Medalbook
About MedalBook
MedalBook was created by scholars, collectors, and individuals who are passionate about history and wanted a space in which their collective knowledge could be shared on a global scale. Countless years have been spent researching, writing, editing, and designing the site to make it functional, informative, and accessible to the largest audience possible. MedalBook provides information on every decoration in the world, including a historical description, maker details, price guide, versions, cases, documents, miniatures and ribbons - all accompanied by images when possible. We aim to offer our users access to information that has never before been found in one place, and we do our best to stay up to date on all current data.
Beyond the research, MedalBook presents MedalMarket, a platform where users can post their own items for sale and offer to purchase from others. Our site also hosts a rich online community of passionate individuals and offers them a place to engage, share and discover. We strive to evolve and create new content and new platforms for our users, and hope they enjoy what MedalBook has to offer.
By signing up with MedalBook, the collector becomes part of a larger community of enthusiasts who share similar military and historical interests. They gain access to a wide range of services catered towards to collecting and researching medals.
What Do We Offer?
MedalBook offers tons of rich data on the world's orders, decorations and medals. This includes a history, physical description, images, composition, size, and inscription.
Medalbook also offers MedalMarket, a buying and selling platform with collectors in mind. This is a unique and safe place to sell your items. A user can upload pictures of their item, and connect it to the correct item in MedalBook, providing the reader with lots of information.
Beyond the abundant wealth of data, and MedalMarket, MedalBook hosts, collectors tools, forums, a community feed, and a rich database of Makers Marks that would be an asset to any collector.
What We Believe In
We believe in spreading knowledge and helping individuals grow as collectors, academics and historians. We believe that MedalBook has an excellent community where people can share their passions, engage with others, and learn about the unique orders and decorations from around the world. We believe that we offer a unique price guide that you won't be able to find elsewhere. Not only is it version/ model specific, but the comment section allows the community to discuss the market trends, providing you with the information you need most. We believe that MedalBook should be the main resource for every collector!
How We Collect Data
Our team of dedicated scholars come from various backgrounds including public history, archaeology, commerce, Italian, Spanish, German, sociology and law, and have been working on this project for over four years. We have scavenged through books, government documents, military documents, auction houses, catalogues, journal articles, magazines, and thousands of websites to provide the highest level of information possible in both quality and quantity. Each country has a "sources" box on the main page that will provide the specific sources used for that country.
We have been provided access to images from numerous auction houses and institutions. For more information please see our Acknowledgements.
NOTE: We always do our best to find authentic representations of historical items to provide our users with the highest quality information. However, often times we only have access to illustrations, photocopies and/or items identified as collectors copies. We do our best to note collectors copies in the version remarks. Please be on the look out for these notices. As always, we appreciate all contributions from our users, and encourage you to replace illustrations and copies with images from your collection! See "How to Contribute" below for more information.
How To Advertise?
Please see this page for details on how to advertise with us - Advertise With Us
How To Contribute?
We appreciate all contributions from our users! Please be aware that contributions may be edited for consistent formatting however, the integrity of your information will be intact. To contribute to a product page, click "add contribution" found at the top right hand of the product page.
A new page will appear offering you a space to enter in your updated information beside the current data. Your contribution will overwrite the present information. Therefore, if your edit is located within the description, please make your changes therein.
If you do not complete your post, you can save the draft and come back to it later. If you are finished, click 'submit contribution.' All posts are reviewed by the MedalBook team. Should your post be declined, you will be provided with a reason why.
All contributions made to a post are visible through the "view contributions" page found in the top right of the page beside "add contribution." Here, you will be able to see your post after it has been approved.
If you have noticed a missing decoration or have questions about the process, please email contribute@medalbook.com. We are happy to help!
Your profile will also benefit from your contributions, as you rise in the ranks of the MedalBook community.
MedalBook Allows You To:
Discover products
Browse items by country, manufacturer, or other interest
Manage and expand your medal collection
Be informed of marketplace trends and offers
Engage with other like-minded individuals
Learn new tricks and tools of the trade
Stay informed through our articles and documents
Become a bronze member today - click here to register for free!

MedalBook Pricing
Prices displayed in MedalBook are based on items in Very Fine condition. We feel the prices presented on this site are a fair asking price for similar goods. Consequently, items in extremely fine condition may sell for more, while those in poorer condition (fine/good/poor) may sell for less. An item in mint condition may sell for substantially more than the price stated in MedalBook.
Our prices are not an offer to buy or sell. Instead, they are MedalBook's opinion based on international market prices, subject to a variety of market and currency fluctuations, and are therefore subjective. Asking prices on dealer's lists or auctions results may be substantially different from the prices shown here. We encourage all individuals to thoroughly research their items and present clear pictures if they are posting to MedalMarket.
See Collector Tools for more information on condition and grading.

How To Navigate MedalBook
Here you have access to over 50,000 unique medals, orders, decorations, and militaria. In order to help you navigate the database, please take a look at our helpful hints below. If you're looking for a specific medal, order, decoration, or keyword, please utilize our search bar located at the top of the screen and enter in the name of the item. You may also choose to select a filter of order, decoration, uniform etc. in the drop-down menu beside the search bar.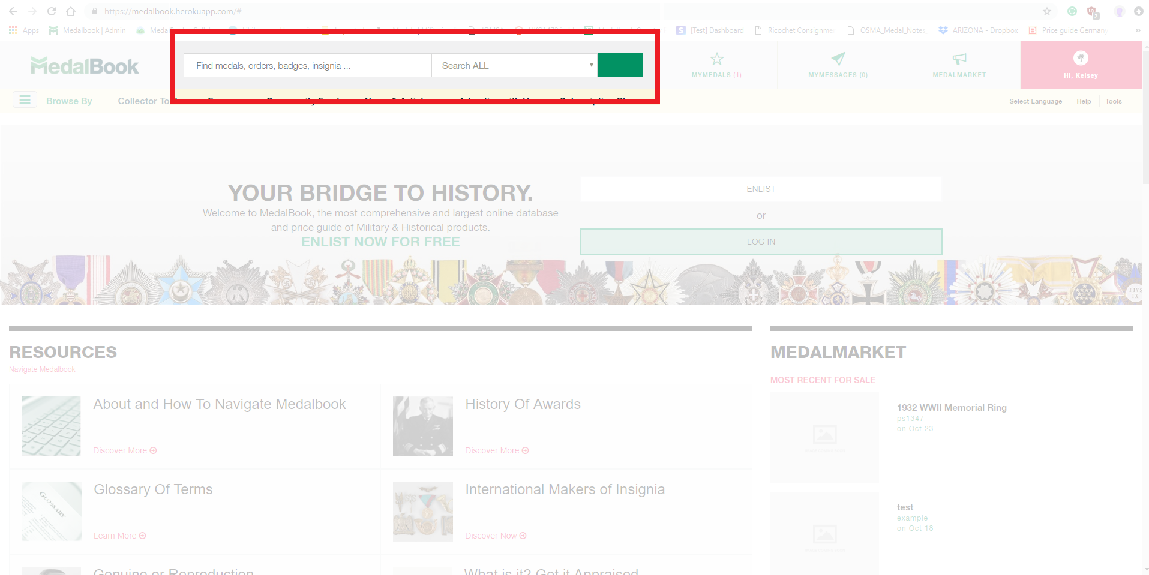 If you're looking for a specific country, please select the sidebar menu located at the top left of your page and select from the list. Once you have located the country, you will be given the option to 'view all' or narrow your search further by time period, state, order etc.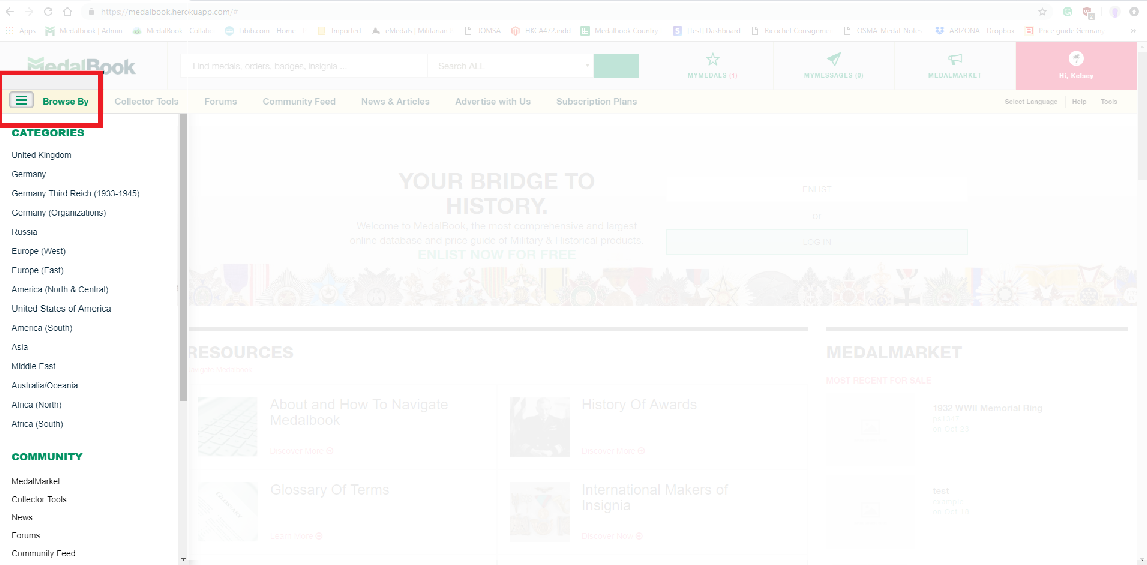 If you would like to discuss a topic, need help identifying a medal, or have a question for the MedalBook community, our Forum is the perfect place to reach out to other users. Once you are in the forum homepage, you can create a new thread or contribute to pre-existing ones. Using the search feature, you can browse threads to see if your desired topic is already being discussed.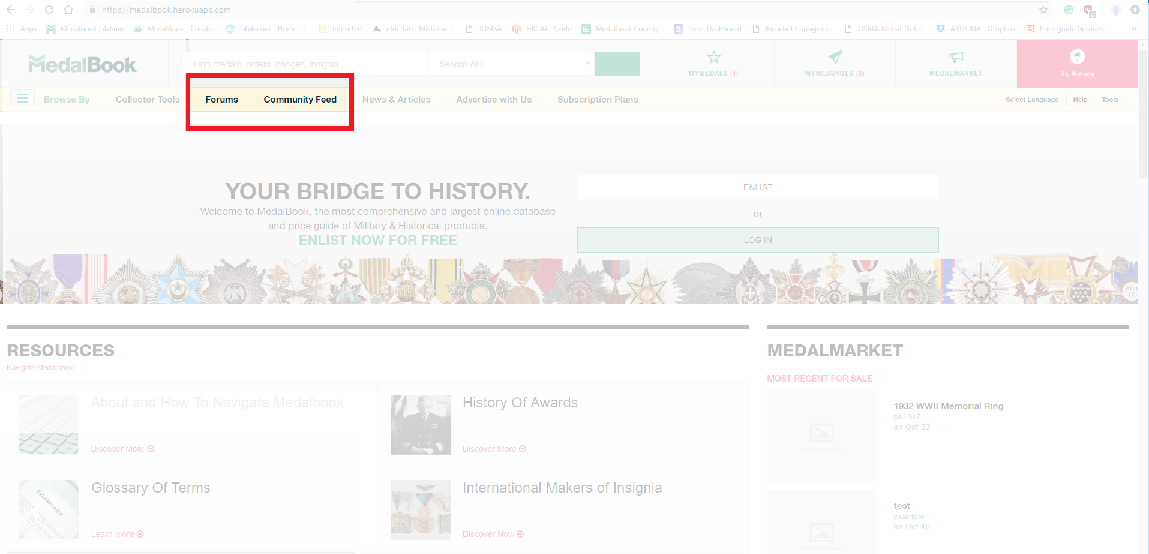 If you're looking for resources to assist you in better understanding collecting medals, orders, and decorations, our Collectors Tools contains all the information you'll need. Whether it's terminology, identifying distinctive markings, or establishing a price point for an item, we have assembled the tools necessary to help out every collector.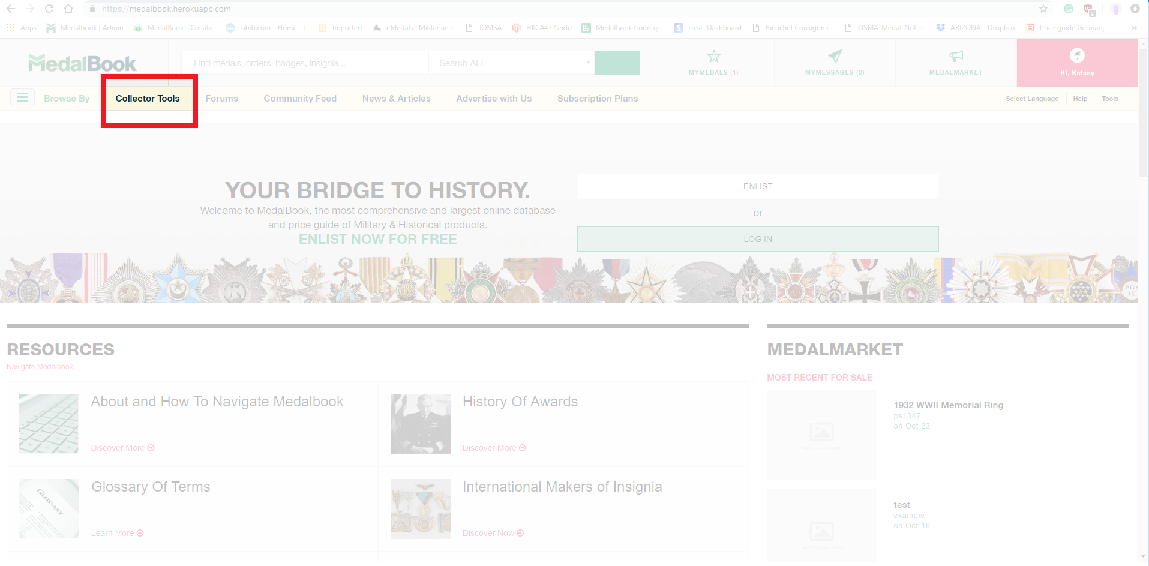 If you're interested in selling or buying an item, we have created MedalMarket, where users can post their own items for sale or advertise wanted posts so that the community can engage each other and facilitate our user's collecting needs.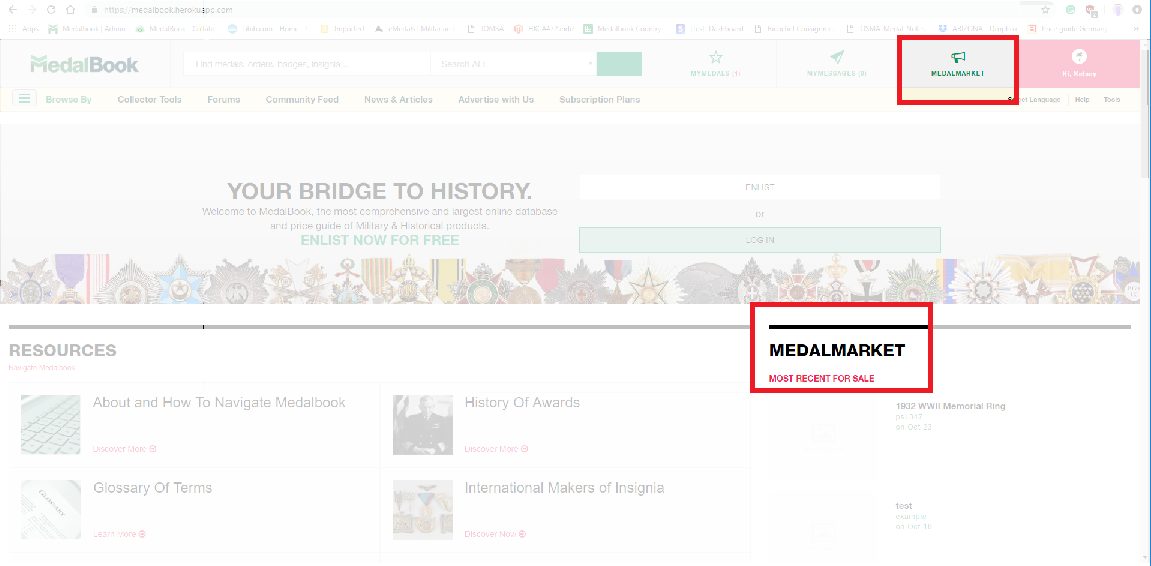 If you're looking for recent articles and documents, our Articles section will provide you with recent scholarly papers and reviews on a variety of topics. You can choose to view these by most recently added, or by country by selecting from the drop-down menu.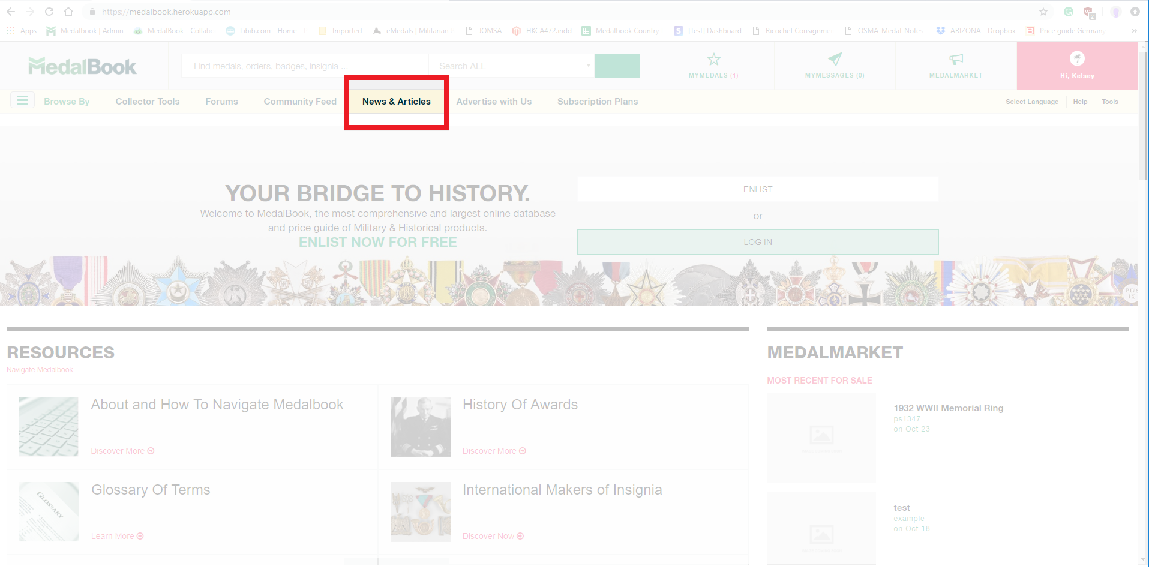 Once you have signed up for MedalBook, My Profile will contain all the information you need to communicate with other users via individual messages, keep track of medals of interest to you, track your listings in the marketplace, and create a unique profile.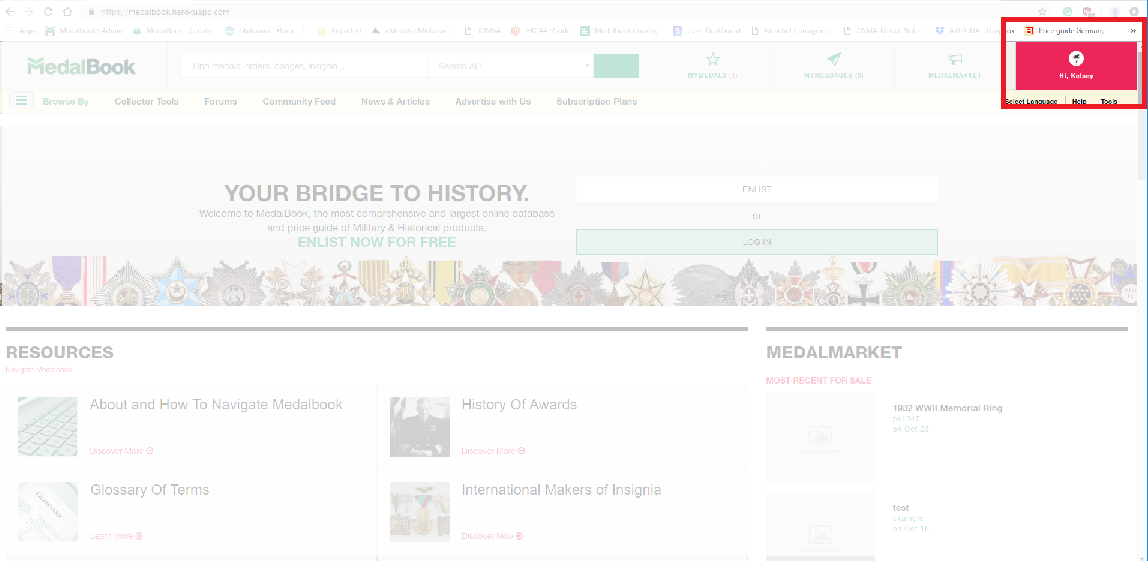 Remember, you can always return to the home page by clicking on the MedalBook Logo.